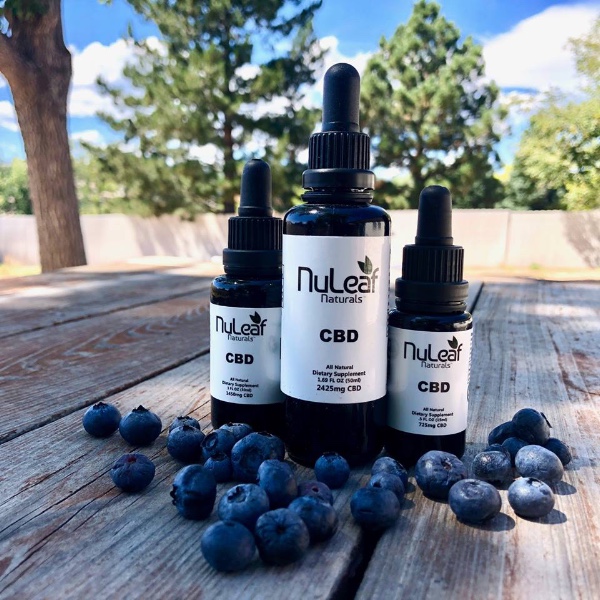 Looking to buy CBD oil? Buy CBD oil from our online store.
What is CBD?
Cannabidiol (CBD) is a naturally-occurring constituent of industrial hemp (cannabis sativa) plants. It is the most abundant non-psychoactive cannabinoid found in cannabis and is being scientifically investigated for numerous reasons. Most people have heard of a cannabinoid called THC, which is the ingredient in cannabis that gets users high. Unlike THC, CBD (cannabidiol) is a non-psychoactive cannabinoid and does not cause a high. The United States Farm Bill of 2014 classified industrial hemp as containing less than 0.3% THC. NuLeaf Naturals products contain less than 0.3% THC, allowed by U.S. Federal law.
What's the difference between CBD from hemp and CBD from marijuana?
Both hemp and marijuana are from the same genus and species (cannabis sativa). The characteristic of having low THC is the single difference that most rely on to distinguish industrial hemp from marijuana. CBD taken from hemp and marijuana is the exact same compound.
How do I consume CBD?
The CBD oil we offer has a couple of different applications. You can hold a sublingual dose under the tongue for 30-60 seconds (recommended for fastest absorption), apply the oil topically to your skin (can be applied directly to a problem area or mixed with your favorite moisturizer), or blend the oil in a health-conscious smoothie. We include further dosing instructions with the product.
Will CBD help my condition?
Due to federal regulations, we cannot make claims about whether or not natural CBD hemp oil can help with specific ailments. We do however urge everyone to research the widely available information online. You can easily find many resources about CBD hemp oil and its possible benefits.
Is your CBD a whole plant extract, synthetic, or isolate?
We would never sacrifice quality by providing a synthetic CBD or CBD isolate blend. We use a whole plant extract that is rich in cannabinoids, terpenes, and other beneficial oils. The Hadassah Medical School at the Hebrew University of Jerusalem sought to compare the effectiveness of a completely purified CBD extract versus a full-spectrum extract of cannabis flowers containing large quantities of CBD. The conclusion of the study was that the whole plant extract, which contained a large percentage of CBD but also contained traces of the other cannabinoids, proved far more effective than CBD-only solutions in alleviating inflammation and pain sensation.
Organic CBD Oil In Stock
Nature's Link is excited to announce that it has an Organic CBD in stock! After two years of research and lots of reading, we have chosen NuLeaf Naturals for my CBD brand. NuLeaf Naturals provided me with Steep Hill LabReport Certificate of Analysis (COA).
Organic CBD Oil
Extended Cannabinoids
Standard Micro & Pesticides
Residual Solvent Analysis Summary
240mg Full Spectrum CBD Oil  &  725mg Full Spectrum CBD Oil
The importance of COA's allows me to know the quality of the product we recommend to my clients. These documents are essential in today's growing Nutritional Supplement industry. If a company cannot show their COA's, walk away. NuLeaf Naturals has numerous reports backing its efficacy, potency, cleanliness, and purity.
Nature's Link Wellness only provides a 50-milligram strength of cannabinoids with USDA certified organic hemp seed oil as a carrier. No isolates, No olive oil, No coconut oil or No flavoring. At our shop, we have provided our customers with nutritional supplements that are Natural in its source that assist the body with the ability to move to homeostasis. Stop by our shop or contact us for any questions