Yoga teacher training with a holistic approach. Learn to practice yoga by balancing the physical and energetic body. With this in-depth training, you will deepen your practice and learn to teach confidently. Understand how yoga philosophy pertains to the physical practice as well as your life off of the mat. This training will give you the ability to keep yourself and your students safe as you practice and teach. Some of the topics covered will be creative sequencing, injury prevention, anatomy and physiology, Ayurveda and yoga, yoga philosophy and much more.
Class is a 200-hour Yoga Alliance approved training. My yoga school is registered as Shannon Sonnier Yoga with Yoga Alliance. Training is held at Nature's Link Wellness in Breaux Bridge, LA. We will meet one weekend a month, January through September 2019. Cost is $2,600, which includes tuition, books, and props.
Payment plans are available. Class size is limited! Email: shannon@sacredjourneyyoga.com.
                                                                                                             2019 Teacher training Schedule
January 4, 5 & 6                                Friday 4:00 – 7:30pm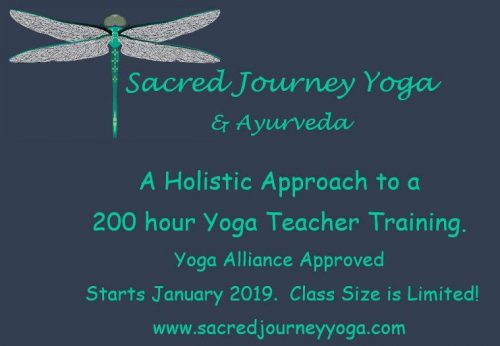 February 1, 2 & 3                               Saturday 8:00 – 5:00pm
March 1, 2 & 3                                    Sunday 11:00 – 5:00pm
April 5, 6 & 7
May 3, 4 & 5
May 31, June 1 & 2
July 12, 13 & 14
August 2, 3 & 4
September 6, 7 & 8