Naturopathy in Acadiana
Nature's Link Wellness Center provides naturopathy to our clients in the Acadiana, LA, area as a natural approach to healing the body and preventing disease. Whether you're located in Breaux Bridge, Lafayette, Baton Rouge or Alexandria, we're here to help you discover ways to improve your everyday life through natural and non-invasive remedies.
The first step in developing a naturopathic plan is a natural health consultation with Dr. Devillier, RND. As a board-certified naturopathic doctor, she will take your unique background and underlying challenges into consideration and then develop a health plan specific to your needs. This may include recommendations for lifestyle and nutritional changes in addition to other alternative healing methods.
As Thomas Edison once said, "The doctor of the future will give no medicine but will interest patients in the maintenance of the human frame, in diet and in the prevention of disease."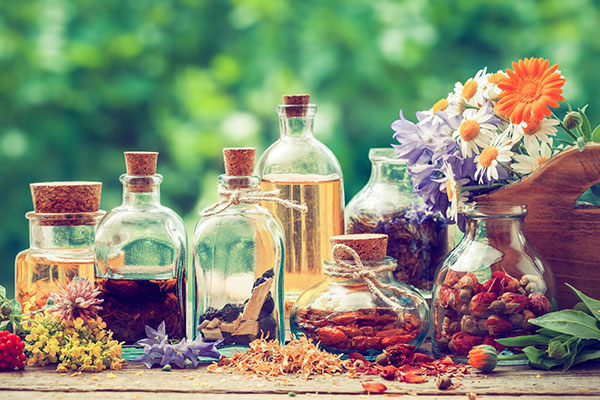 What is Naturopathy?
Naturopathy, also referred to as naturopathic medicine, is a unique health care profession focused on healing the body using natural medicines and alternative therapies. Naturopathy takes a whole-body approach to uncover the underlying causes of diseases and other conditions. The goal is to promote overall well-being, provide natural symptom relief, stimulate self-healing and to support and restore the body's weakened systems.
Naturopathic treatments may include:
Lifestyle and/or dietary changes
Stress reduction techniques
Homeopathic medicine
Exercise therapy
Acupuncture
Manipulative therapies
Detoxification (directed by a practitioner)
Counseling and/or psychotherapy
What is a Naturopath?
A traditional naturopath is a naturopathy practitioner who has received training but is not licensed and has not completed a program that is accredited by the U.S. Department of Education.
Nurses, physicians, chiropractors and other health care providers may provide some naturopathic treatments or holistic therapies. They may or may not have completed an accredited program.
What is a Naturopathic Doctor?
A naturopathic physician has completed a 4-year graduate-level program at a U.S. naturopathic medical school that's accredited by the Council on Naturopathic Medical Education.
Dr. Kristine Devillier, RND is a board-certified naturopathic doctor in Louisiana, serving Breaux Bridge, Lafayette and the Acadiana area. As owner of Nature's Link Wellness Center, Dr. Devillier is committed to a holistic approach to health and passionate about bringing balance and optimal health to the lives of her clients.
Positively Affected Her Clients
"I have worked with Kristine for at least 3 years. In this time I have seen how deeply she has positively affected her clients' lives."
---
Very Thankful
"I have to say, I am very thankful that I now bring my child and soon to be children to Kris Devillier. For the last month all I have been coming across on my time hop app is how Kolt stayed sick from the time he was 9months old to 2 years ago! I am proud to say besides a little cough and runny nose for about 4 days my little man has been healthy as can be!"
---
She Saved Me
"She saved me when I was sick and went to several doctors that could not give me answers."
---
Absolute Saving Grace
"Nature's Link has been my absolute saving grace for my auto-immune disease. Kris and her staff are so proficient in their knowledge of the body and what our body needs to heal itself. Thank you ALL for giving me new Hope and Faith in the truly NATURAL process."
---
Starting To Feel Better
"I spent a year in various doctors' offices, having test after test run, and only felt worse by the day. I was also told that I had PCOS and would likely have difficulty getting pregnant. Kristine explained everything that was going on with my body and what I needed to do to get back on track. After only a couple weeks of products she recommended, I was already starting to feel better. I also now have a happy and healthy 8 month old and I'm feeling better than I ever have!"
---
I Feel So Much Better
"I feel so much better about myself and my life since being introduced to this awsome place. Thank you for everything you all have done for me and my family"
---
Pain Has Subsided Tremendously
"I'm so thankful to the Lord for you as well as your knowledge and compassion about what you do in helping me and others heal ours bodies with natural supplements and healthy eating! In the past week the change is remarkable, my pain has subsided tremendously...wow!"
---
How Naturopathy Can Benefit Health & Well-Being
Naturopathic medicine is frequently used to address chronic conditions that typically do not respond to conventional medicine. In addition, it's often used to support overall health and wellness as well as for disease prevention. Patients seek naturopathy services to assist with a wide range of health concerns, including:
Fatigue
Restless sleep
Chronic pain
Digestive issues
Cardiovascular health
Fertility
Digestive health
Immune system support
Sleep disorders
Hormonal imbalances
Allergies
Headaches and migraines
Skin conditions
Menopause
Arthritis
Request A Consultation
Interested in learning more about how naturopathic medicine can improve your overall well-being? Contact Nature's Link Wellness Center to request an appointment by phone at 337-332-2705 or online today!
Request An Appointment Online