Nature's Link Wellness Center offers natural health consultations in Breaux Bridge, Louisiana. Dr. Kristine Devillier, RND provides education, treatments and solutions to support good health, natural healing and disease prevention. If you're looking for a customized plan to improve your health using a combination of traditional and alternative techniques, schedule a consultation today.
Located in Breaux Bridge, we consult with clients nationwide. Contact us about telehealth options.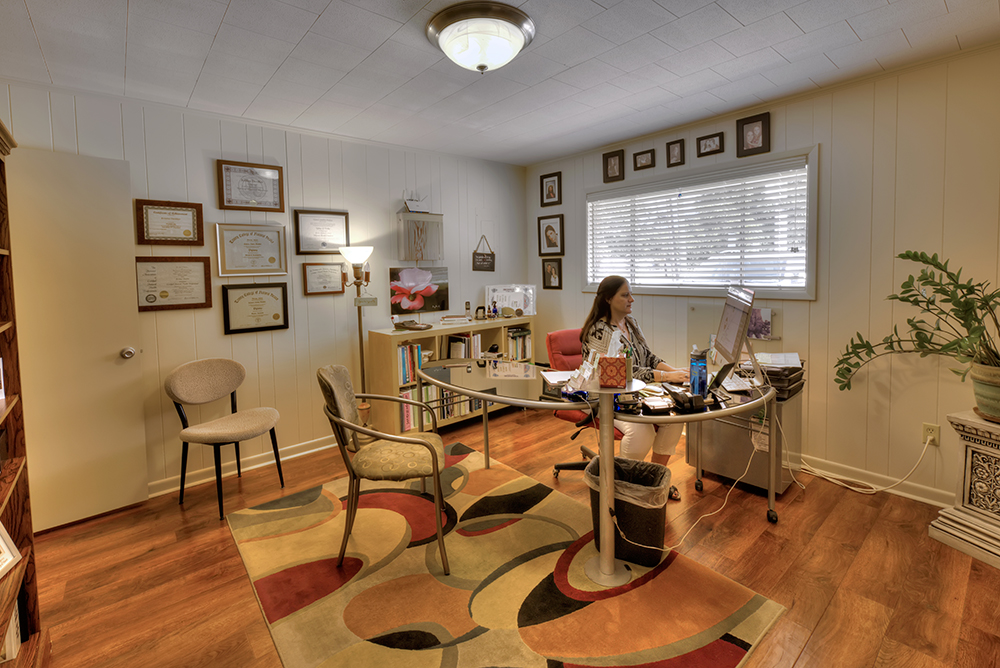 Request An Appointment Online
What to Expect
Your initial appointment will include a review of your health history. During your consultation, Dr. Devillier will discuss the health factors you're facing and how to overcome them. The discussion will cover any health concerns and their impact on your life, as well as your goals and what you'd like to improve.
Dr. Devillier will use this information to develop a customized wellness plan, which may include diet and lifestyle changes and naturopathic treatments. Following her recommendations will allow your body to rebuild and cleanse itself naturally.
Follow-up appointments will focus on measuring progress and updating recommended protocols for food and lifestyle adjustments and suggested natural health treatments.
Natural Health Consultations Include:
Nutritional Counseling
Lifestyle Analysis
Tongue, Nail, Face Analysis (TCM)
Reasons to Schedule a Natural Health Consultation
If you're looking for natural ways to maintain your health and recover from sickness, inflammation and aches/pains, Dr. Devillier can help. A one-on-one natural health consultation at Nature's Link Wellness Center can be beneficial for anyone looking for natural ways to improve their wellness. We assist clients with conditions such as obesity, fatigue, diabetes, chronic disease, mood swings, hypertension, stress, influenza, chronic pain, sleep disruption and more.
Benefits of a Natural Health Consultation
Dr. Devillier believes in healing the body naturally, without the use of medications or invasive treatments. Natural Health consultations focus on improving your health through a balance of proper diet, hydration, fresh air, sunlight, exercise, and rest. All recommendations are tailored to your individual needs, lifestyle and goals.
Dr. Devillier is not a medical doctor and does not treat or diagnose disease.
Positively Affected Her Clients
"I have worked with Kristine for at least 3 years. In this time I have seen how deeply she has positively affected her clients' lives."
---
Very Thankful
"I have to say, I am very thankful that I now bring my child and soon to be children to Kris Devillier. For the last month all I have been coming across on my time hop app is how Kolt stayed sick from the time he was 9months old to 2 years ago! I am proud to say besides a little cough and runny nose for about 4 days my little man has been healthy as can be!"
---
Absolute Saving Grace
"Nature's Link has been my absolute saving grace for my auto-immune disease. Kris and her staff are so proficient in their knowledge of the body and what our body needs to heal itself. Thank you ALL for giving me new Hope and Faith in the truly NATURAL process."
---
Pain Has Subsided Tremendously
"I'm so thankful to the Lord for you as well as your knowledge and compassion about what you do in helping me and others heal ours bodies with natural supplements and healthy eating! In the past week the change is remarkable, my pain has subsided tremendously...wow!"
---
She Saved Me
"She saved me when I was sick and went to several doctors that could not give me answers."
---
Starting To Feel Better
"I spent a year in various doctors' offices, having test after test run, and only felt worse by the day. I was also told that I had PCOS and would likely have difficulty getting pregnant. Kristine explained everything that was going on with my body and what I needed to do to get back on track. After only a couple weeks of products she recommended, I was already starting to feel better. I also now have a happy and healthy 8 month old and I'm feeling better than I ever have!"
---
I Feel So Much Better
"I feel so much better about myself and my life since being introduced to this awsome place. Thank you for everything you all have done for me and my family"
---
Schedule Your Natural Health Consultation
Whether you're located in Lafayette, Baton Rouge or Alexandria, Nature's Link Wellness Center actively consults with individuals from all over the Acadiana region to improve their health.
Call 337-332-2705 or contact Nature's Link Wellness Center in Breaux Bridge, LA to schedule your natural health consultation today.