"Life isn't about waiting for the storm to pass. It's about learning to dance in the rain." -Anonymous
Current Trends
Rates of mental illness, particularly depression and anxiety, have been rising rapidly across the globe, with youth and adolescents being hit the hardest. The recently increased stress, uncertainty, and isolation caused by the COVID-19 pandemic have only worsened these already alarming trends. In fact, suicide is currently the #2 leading cause of death for those ages 15-29.
What is it?
This kit contains products formulated to help you holistically balance your mood so you can better manage stress and adapt to life's many challenges. Our mood is determined by both our physical and emotional conditions, and these products address both, simultaneously. This kit contains our foundational drink, Solle Vital which comes in individualized drink packets, along with three of our encapsulated products in AdaptAble, S olleMegas, and our new plant-based vitamin D3/ada ptogen blend product LongeviD. Also included is a ready-to-use essential oil roll-on bottle Confidence.
What does it do?
Mood is affected by external stimuli (stress, nutrition, change) along with internal stimuli (hormones, general health). This kit provides your mind and body with needed nutrition through trace minerals, vitamins, healthy fats, and adaptogenic herbs to give you what you need to manage stress and regain control.
Usage Tips:
Use the Confidence roll-on whenever life gets heavy, and you need a quick boost of confidence.
We generally recommend that you don't take Solle Vital after dinner, since it does contain energizing herbs.
If you struggle with swallowing capsules, throw them in a blender with your favorite smoothie.
Add a squeeze of lime juice to Solle Vital for a fresh new taste.
Take AdaptAble in the morning and again at dinner during times of increased stress.
Revealing Solle's Roots
Here is a newly released video that reveals the inspiring story of Donna Halliday, wife of Solle President and Founder Greg Halliday. In this video, she bravely talks about the details of her personal, lifelong battle with depression, how adaptogens helped her change her life, and how that journey has now inspired something much larger than just her and her family.
Mood Enhancement Calendar
Download this calendar and complete the suggested activities each day.
Each small action relates to behaviors that have been proven to help relieve feelings of anxiety and/or depression. The idea is to teach and build daily habits that can help you better manage your mental health. These habits are beneficial WHETHER OR NOT YOU HAVE BEEN DIAGNOSED WITH A MENTAL ILLNESS.
You can download and share the calendar by clicking on the image. You can also receive daily reminder texts by texting "Mood" to (NUMBER)
Make a Difference
Following in the footsteps of our Foundation's namesake, the Cynthia M. Reed Heart and Solle Foundation's mission is to provide compassionate service and make a significant difference in the lives of those suffering physically and/or emotionally.  The Heart & Solle Foundation is committed to improving the lives of individuals worldwide, with a special focus on women and children's health issues. Your donation will go directly to carefully selected charities congruent with Solle's mind and body philosophy.
Four FREE Mental Health Training
Available to the public through our YouTube channel
These trainings are an amazing opportunity to be able to learn four, basic, compounding skills that will better equip you to deal with personal, and others', mental health struggles. Dr. Alison is a Clinical Psychologist, with a post-doc in Mind-Body Medicine at Yale with years of experience in research and private practice.
Week 3: Setting Boundaries
More Information On Mental Health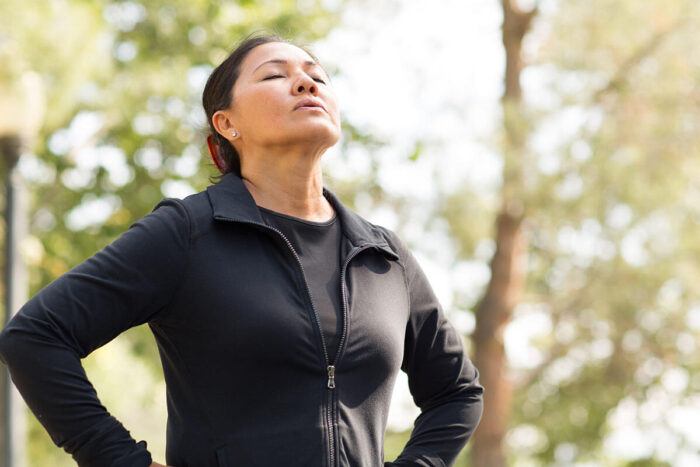 The Way to Ease Stress
77% of people regularly experience physical symptoms related to stress and 73% experience psychological symptoms, according to the latest statistics from the American Institute of Stress.
Many of us experience physical and mental health symptoms without realizing that their source may be stress. Thankfully, there's a simple, accessible, inexhaustible and cost-free remedy for stress. It all starts with the breath.
Solle Essentials for Mental Health Support
Aromatherapy has so many benefits that can support and enhance mental health/mood. And, since our mind and body is so incredibly interwoven, these mental improvements often affect other areas of our health as well. A 2008 study showed a strong correlation between mood and physiological changes, including physical, blood chemistry, hormones, neurotransmission, and metabolism (source).