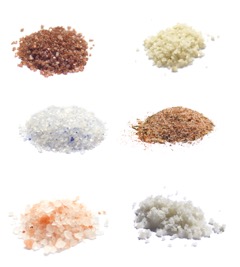 In the INORGANIC form which is commonly known as Table Salt it is processed and is highly Injurious and Accelerates Numerous Diseases, such as
Tuberculosis
Gout
Rheumatism
Eczema
Gallstones
Gravel (calculus occurring in small particle; uric acid)
Cataracts
In the ORGANIC form which is not processed contains properties that are Detoxifying and Nutritive. It can assist in aliments such as
Adrenal Fatigue
Asthma
Circulation (poor)
Cramps and Spasms
Edema
Exercise
Hypertension
Hypothyroid
Osteoporosis
Poison Ivy or Oak
Respiratory Allergies & Sinus Infections
Natural salt is endowed by nature with valuable minerals and is beneficial to the body. Table salt on the other hand has been stripped of its essential trace minerals then bleached and treated with additives. Natural salt is absolutely beneficial for a wide variety of health conditions (see a few examples listed above). It will not raise blood pressure, and often helps to actually lower blood pressure. Internally natural salt can be mixed with pure water and used as a nasal wash or sore throat gargle, adding a pinch to a glass of pure water taken before meals can stimulate hydrochloric acid production and digestion and a pinch of natural salt followed by a glass of water can also be helpful for asthma. Externally natural salt can be used with baking soda and/or Epson salt for a detoxification bath.
The Sea Salt from Nature's Sunshine (sponsor #1170730) is what we like to use in our store and our homes. If you would like to try it, it can be purchase through Nature's Sunshine, Nature's Sunshine Sea Salt (Stock # 150-6). The ingredients are Sea Salt that is mined from the Redmond Salt Mines in Redmond, UT and Celery Seed. Also available in our store @ Nature's Link Wellness Center.
There are a wide variety of natural salts to choose from, here are just a few:
Himalayan Pink salt is high in mineral content; it can be found coarse or fine ground and is hand-mined in the Himalayan Mountains. (pork, chicken, turkey)
Fleur de Sel "Flower of Salt" is considered the caviar of salts because of its floral aroma and complex minerals. It looks like tiny snowflakes and is slightly moist and is hand-mined in the salt marshes in Brittany, France. (shellfish, vinaigrette)
Kala Namak "Indian Black Salt" is finely ground and contains natural sulfur minerals which give it a potent earthy aroma and flavor that resembles Indian spices. It is mined in Central India. (lentils, curries)
Sel Gris is unrefined and unprocessed; it has a robust aromatic flavor of clean coastal waters. It is harvested by traditional Celtic methods along the Guérande Region of Brittany, France. (boiling pasta, shellfish, fish)
Kosher Flake is alkalizing and is less acidic than table salt and most often made from real ocean water. It has a flat crystal shape that makes it uniquely perfect to adhere to foods. (pretzels, breads, salted caramels)
* These salts can be purchased at Nature's Link Wellness Center upon request.