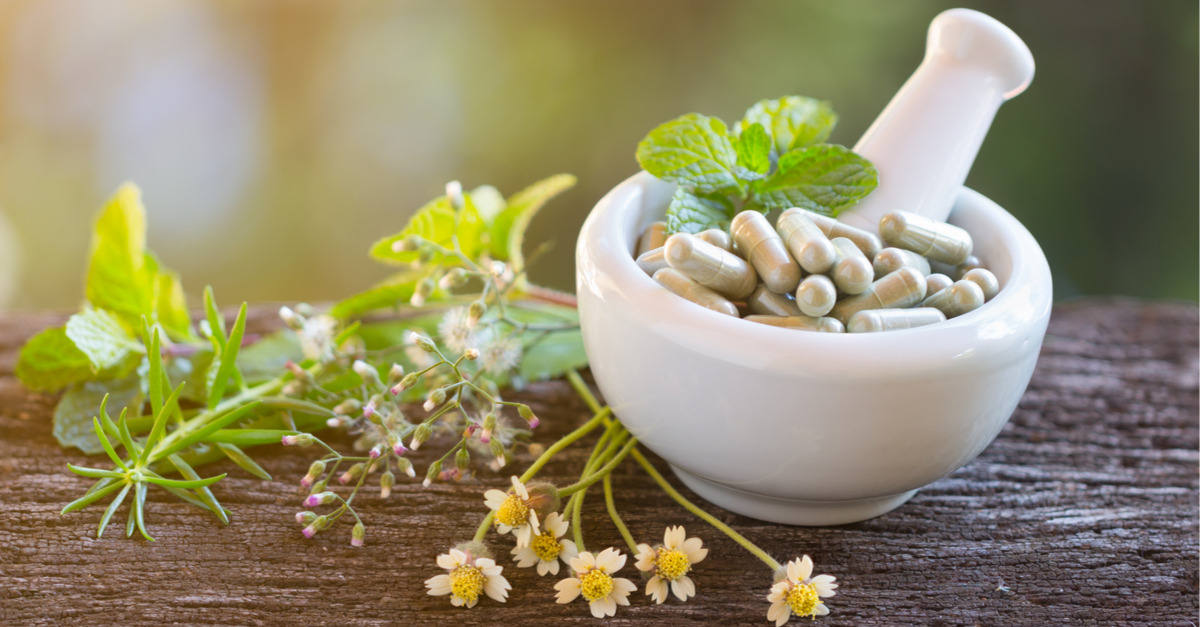 Vitamins and Minerals List converted to single Herb Use:
VITAMIN A
Alfalfa, Spirulina, Gotu Kola, Peppermint, Senna, Yellow Dock, Uva Ursi
VITAMIN B1 (Thiamin)
Spirulina, Gotu Kola, Senna, Burdock, Grapevine
VITAMIN B2 (Niacin)
Spirulina Senna, Barley Grass, Eyebright, Alfalfa
VITAMIN B3 (Niacin)
Hops, Feverfew, Red Raspberry, Eyebright, Slippery Elm
VITAMIN B6 (Pyridoxine)
Eyebright, Pau D'Arco, Alfalfa, ATC, Garlic, Butchers Broom, Red Clover
VITAMIN B12 (Cyanocobalamin)
Dong Quai, Ginseng, White Oak
VITAMIN C
Rose Hips, Aloe Vera Juice, Senna, Papaya
VITAMIN D
Bee Pollen, Chickweed, Alfalfa, Fenugreek, Eyebright
VITAMIN E
Red Raspberry, Goldenseal, Eyebright, Dong Quai, Blue Cohosh, Dandelion
VITAMIN G
Gotu Kola, Papaya
VITAMIN K
Alfalfa, Kelp, Slippery Elm
VITAMIN P (Rutin / Bioflavonoids)
Cayenne, Comfrey, Slippery Elm, Red Clover, Rose Hips
VITAMIN U
Algin, Chaparral, ATC, Black Walnut, Scullcap, Cascara, Dandelion
ALUMINUM
Chickweed, Butchers Broom, Gotu Kola, Grapevine, Devil's Claw, Thyme
CALCIUM
Valerian, White Oak, Pau D'Arco, Kelp, Barberry, Horsetail, Damiana, Vit. Calcium, SKL, CA
CHLORINE
Alfalfa, Kelp, Parsley, Red Clover
CHLOROPHYLL
Liquid Chlorophyll or capsules, Solle Vital, Fastract
COPPER
Horsetail, Scullcap, Sage, White Oak, Yucca
IODINE
Kelp, Black Walnut, Dulse, Garlic
IRON
Devil's Claw, Chickweed, Mullein, Blue Cohosh, Butchers Broom, Kelp, Thyme, Catnips, Horsetails, Uva Ursi, Red Raspberry, Dandelion
LITHIUM
Kelp
 MAGNESIUM
Oatstraw, Licorice, Kelp, White Willow, Devil's Claw
MANGANESE
Red Raspberry, Grapevine, Ginger, Gotu Kola
PHOSPHORUS
Hops, Feverfew, Red Raspberry, Eyebright, Slippery Elm, Yellow Dock
POTASSIUM
Parsley, Blessed Thistle, Barley Grass, Catnip, Hops
SELENIUM
Alfalfa, Catnip, Kelp, Milk Thistle
SILICON
Kelp, Rose Hips, Gotu Kola, Licorice Root, Parsley
SULFUR
Red Raspberry, Capsicum, Eyebright, Thyme, Sage
ZINC
Scullcap, Capsicum, Grapevine, Sage, Spirulina, Chickweed, Echinacea
 TRACE MINERALS
Alfalfa, Kelp, Mineral Maintenance, Solle Vital, Fastract
The science and art of using plants for healing is known as herbology. Let take Garlic it is both food and medicine. It contains nutrients such as protein, carbohydrates, and fats. It also aids the circulatory and immune systems. Garlic, therefore, is a medicinal food.
This list of nutrients found in herbs compiled for the intent to use as a reference. Making the connection that herbs have a nutritional profile.