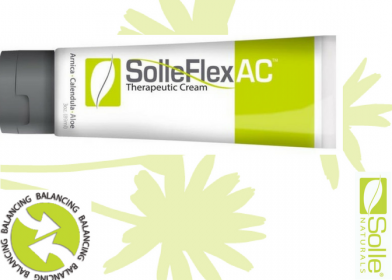 Sore? Stiff? Irritated? SollFlex AC Therapeutic Cream has you covered!
Let's face it, life comes at us pretty fast, and no matter how we spend our time we get our share of challenges to both body and mind. But that's OK. Really. We can handle it – especially with the right nutrition. Whether we supplement our diet or bring therapy to our body and mind through the skin, a little extra healing power can make all the difference. SolleFlex AC Therapeutic Cream combines the very best soothing, healing, and rejuvenating herbs in an all-natural, odor-free, residue-free cream that more than stands up to life's challenges. So, what's going on in your life right now? Soreness? Discomfort? Bruising? Injuries? Don't worry, with Solle Naturals you're covered. So, when life brings the heat, turn up the AC! SolleFlex AC.
Key Ingredients of SolleFlex AC
Arnica
Arnica Montana Extract is used to soothe muscle aches, it reduces inflammation and promotes healing. Historically this flowering plant has been used for a variety of things from acne to insect bites and to reduce pain and swelling from injury and post-surgical sites. It is the A in AC.
Calendula
Calendula Officinalis Flower Extract contains high amounts of flavonoids which have been used for hundreds of years both internally and topically as an aid to accelerate the healing of wounds and to combat infections, bacterial and viral. It has been effective for nosebleeds, varicose veins, hemorrhoids, proctitis (inflammation of the rectum), and conjunctivitis (inflammation of the lining of the eyelid). As an anti-inflammatory, its properties have made it a standard in topical herbal preparations. From stretch marks, to vulva repair, it is found in many a midwife's bag as it is also safe and beneficial for the newborn. Innocuous and effective, it is the C in AC.
Aloe Vera Leaf
Aloe Vera Leaf Gel (Aloe Barbadensis Leaf Juice) has a long history of soothing inflammation and supporting joint health. Topically this extraordinarily emollient and mucilaginous herb has been touted as an aid in cases of burns, from simple first-degree sunburn to the sever, full thickness damage of third-degree burns. However, repair from conditions such as psoriasis, dermatitis, bedsores, as well as fungal and viral infections have also been documented as benefiting from this versatile, innocuous succulent.
Olive Leaf
Olive Leaf Extract (Olea Europaea) extract contains natural antioxidants and has both anti-bacterial and anti-fungal properties to help support improved healing of wounds and post-surgical sites. It is an excellent therapeutic solution for acne and other skin irritations and disorders.
MSM
MSM (Methylsufonymethane) is derived from natural sulfur – in this formula – and has been used in cases such as osteoarthritis, joint inflammation, rheumatoid arthritis, osteoporosis, bursitis, tendonitis, musculoskeletal pain, muscle cramps, scaring, and stretch marks. Applying a salve containing MSM can improve skin color and other symptoms of rosacea. It is also used to relieve symptoms resulting from physical stress, aggressive exercise or disorders such as osteoarthritis and other conditions of stiffness and limited mobility.
Witch Hazel
Witch Hazel Leaf Extract (Hamamelis Virginiana) has numerous traditional uses, but its primary focus is as an anti-inflammatory. The antimicrobial, astringent, and emollient (moisturizing) properties provide accelerated healing. It has been used in cases of varicose veins, hemorrhoids, bruises, insect bites, minor burns, eczema, and other skin irritations.
St. John's Wort
St. John's Wort (Hypericum Perforatum Extract) has been used topically for everything from bruises, burns, and insect bites to the pain of inflammation, muscle and nerve damage. Clinically a preparation of St. John's Wort has been used to reduce pain, inflammation and scaring from Cesarean Section incisions. This safe and effective aid to mind and body can be used with confidence.
Complementary Ingredients in SolleFlex AC
Chamomile
Chamomile Recutita (Matricaria) Flower Extract is used for its antioxidant and anti-inflammatory properties. It is extremely soothing and beneficial for skin damaged by acne and excessive dryness.
Passion Flower
Passion Flower Extract (Passiflora Incarnata) is used topically for burns, hemorrhoids, inflammation, and pain, and is also used to calm the mind to help with sleep and anxiety disorders.
Comfrey
Comfrey (Symphytum) contains Allantoin, which is used to increase smoothness of skin. It acts as an anti-irritant, is anti-inflammatory and is a general skin protectant.
Jojoba Oil
Jojoba Seed Oil (Simmonsdia Chinensis) is a powerful antimicrobial and antibacterial ingredient which also helps moisturize the skin and support acne care.
Safflower Oil
Safflower Oil is included because of its non-greasy texture as a moisturizer, easily absorbed by the skin– leaving the skin soft, smooth, and supple.
Natural Vitamin E
Natural Vitamin E (D-Alpha Tocopherol) is an antioxidant that helps support premature aging, wrinkles, scars, brown spots, and cuticles.
Tilia Cordata
Tilia Cordata Flower Extract (Linden Blossom) is used as a skin conditioner to help address acne, burns, freckles, rash, and wrinkles.
Additional Ingredients in SolleFlex AC:
Argania Spinosa Kernel Oil, Caprylic/Capric Triglyceride. Deionized Water, Ceterayl/Sorbitan Olivate, Panthenol, Cetyl Alcohol, Glyceryl Monostearate, Stearic Acid, Glycerin, Squalene, Triethanolamine.
Words that may need some clarification:
Astringent: contracts and tones muscle fiber and other tissue.
Emollient: a preparation that soothes and softens external tissue.
Innocuous: harmless; not likely to irritate.
Mucilaginous: smooths and softens tissue keeping it moist and pliable.
SolleFlex AC Therapeutic Cream is a powerhouse of herbal extracts that include only plant-based ingredients. This unique formula by Solle Naturals is water-based, rather than an oil-based, its preparation has a very smooth and soft feel that absorbs easily and works quickly to provide a broad array of mind and body therapeutic benefits for joint, backache, sprains, inflammation, and bruising. 101 Uses for SolleFlex AC
[/vc_row