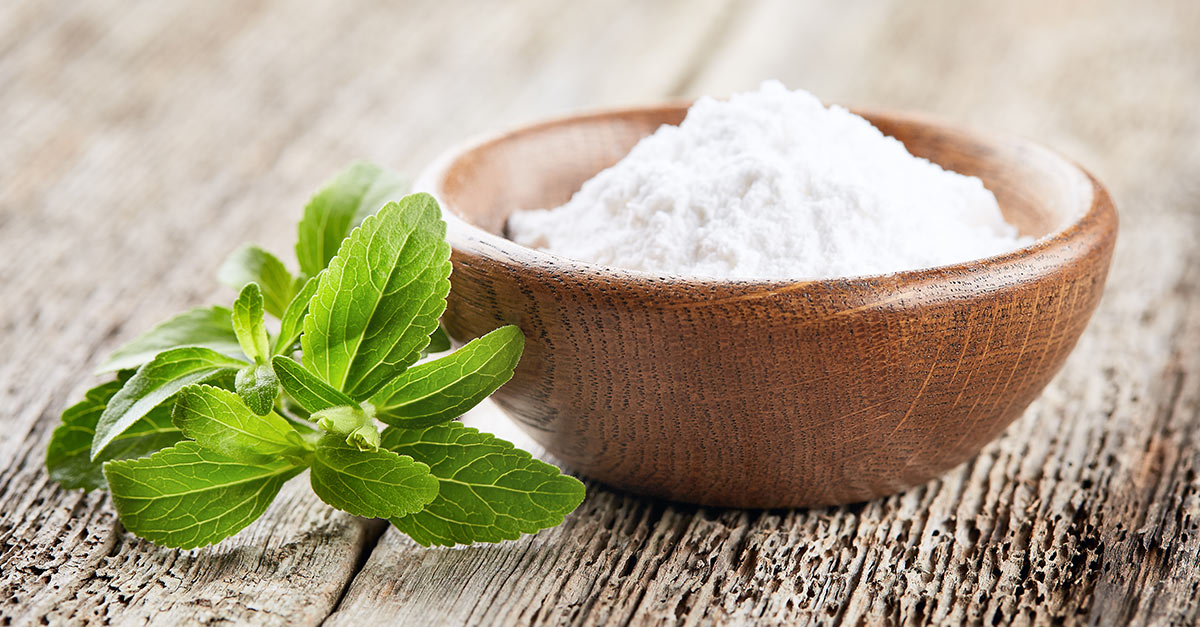 Stevia: The All-Natural Sweetener with Health Benefits
You may know stevia as Splenda or Truvia, no-calorie sugar substitutes for sweetening your coffee or tea. But stevia is more than an alternative sweetener and it's health benefits extend far beyond diet control.
Stevia is also a plant, known officially as Stevia rebaudiana. This perennial shrub is part of one of the world's largest plant families, Asteraceae.
Native to South America, stevia has been used for centuries as a food and medicine. Today, stevia is still grown and enjoyed all over the world for its super sweet taste and for its medicinal properties.
Stevia's sweetness comes from compounds in its leaves which can be extracted when the leaves are soaked in water. This extract, known as steviol glycoside, contains two components: rebaudioside A and stevioside. The US Food and Drug Administration approved the use of rebaudioside A in 2008. Since then, stevia has been sweetening many of the products you see in your local grocery or health food store.
Stevia can be used in any food or recipe in which sugar or an artificial sweetener is typically used. Because it contains no calories, carbohydrates, or artificial ingredients, many people use it as part of their weight management toolkit.
But this little plant is proving to have a positive impact on a range of common health issues.
Here's more on how stevia can give your wellness a boost:
Blood sugar. Stevia does not raise blood sugar levels, so it's an ideal sweetener for people living with diabetes. According to the American Diabetes Association, more than 10% of Americans have diabetes. Stevia is helping many of them control blood glucose and insulin levels without sacrificing taste.
Blood pressure. Almost half of all adults in the US are living with high blood pressure according to the American Heart Association. Because it acts as a vasodilator, causing blood vessels to widen, stevia leaf extract may help lower overall blood pressure. High blood pressure is linked to a range of health issues such as heart attacks, stroke and kidney damage, so it's important to monitor your blood pressure and take steps to treat it if it's too high.
Cholesterol. It's important to maintain healthy cholesterol levels to keep your heart healthy and minimize your risk of heart disease and stroke. Stevia has been shown to lower triglycerides and LDL (bad) cholesterol while raising HDL (good) cholesterol levels.
Inflammation. Diets that are high in sugar have been shown to contribute to chronic inflammation in the body, contributing to health issues such as arthritis. Replacing sugar with stevia can help reduce the amount of sugar you're consuming while benefitting from stevia's anti-inflammatory properties at the same time.
Skin care. Stevia has been shown to be helpful in the treatment of skin problems such as acne, seborrhea, dermatitis, and eczema. It aids in the healing of wounds and helps minimize scarring. Stevia may also have positive effects on skin texture, helping to prevent sagging.
Mouth care. Stevia's antimicrobial properties help it limit cavity forming bacteria in the mouth, without adversely affecting the probiotic bacteria in the digestive tract.
These are some of the many health benefits associated with stevia. Here's a great resource for more information.
How to choose the right stevia products:
This amazing plant is available in a vast array of formulas and products. For example, stevia can be bought as a leaf powder, powdered extract, liquid extract, supplement, whole leaf, and more. Some of these products may be combined with other sweeteners or artificial ingredients, so it's important to check labels and seek guidance to make sure you are getting the most appropriate product in its purest form.
The broad range of stevia products available today can make choosing the right one a challenge. If you're interested in introducing stevia into your diet or using it to improve a certain aspect of your health, it's important to first get some advice from the natural medicine experts at Nature's Link Wellness Center in Breaux Bridge, LA.
We want to empower you to adopt a healthy, active lifestyle, tailored to your personal goals and priorities. We can help you decide if stevia is appropriate for you and assist you in finding the right stevia products for your healthy living plan.
Get in touch with us today to find out more about this all-natural sweetener and how it can satisfy your sweet tooth as well as boost your health. For all the latest in natural medicine in Breaux Bridge, Lafayette and the entire Acadiana area, give us a call on 337-332-2705 or reach us online for more information.